Pin It
Hi lacqueraders,
Do you ever get tired of a colour? I do. Red is my nemesis. Except for Barielle's Elle Spell which I sported here, there has never been a red I could stand for more than two days. And even that is a feat. I usually want to take it off as soon as I put it on *shrugs*.
I love the blue-green combination. Therefore, it was a surprise for me when I could not figure out what the hype about Floam was all about. I got Sticks and Stones from Ninja Polish and added Floam to the basket just to see why bloggers were going so gaga about it. Well, now I know... and how. Be ready to be picture-bombed!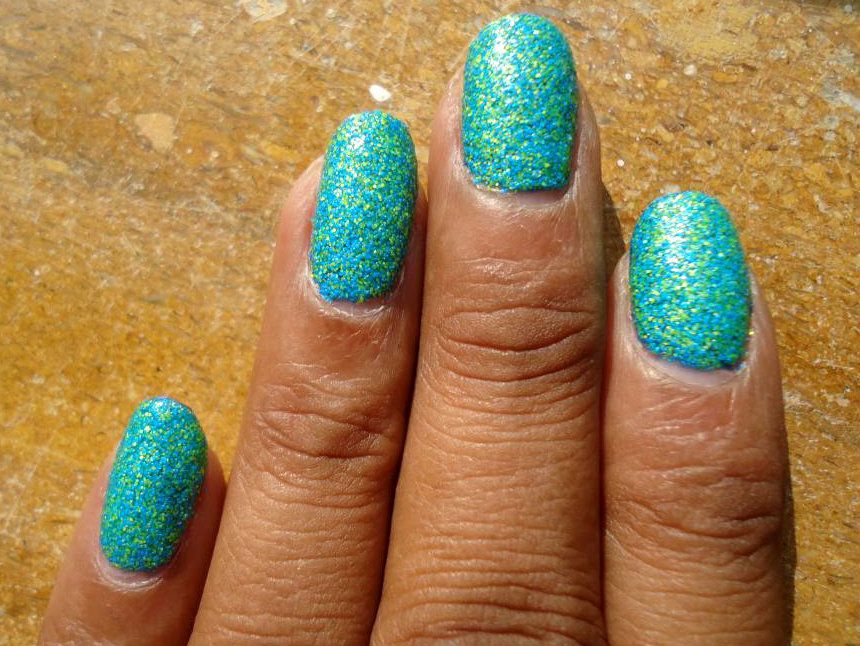 Isn't this a beauty?! This polish was first frankened by Amy from the blog I'm Feeling Nail-Venturous. But Ninja Polish started producing it later with her permission.
It has matte green and neon blue glitter with a smattering of yellow, too, in a clear base. The polish is thick, but it dries fast and hard. This one did not chip even after I sported it for over eight days! Do wait in between coats to avoid bald spots.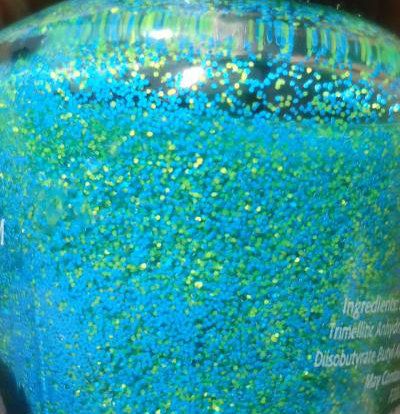 Since this polish has been around for some time now, I learnt that it was very hard to get off. So I layered it over my blue peel-off polish. This polish can be used as a layer polish with one coat or lend full coverage with three coats.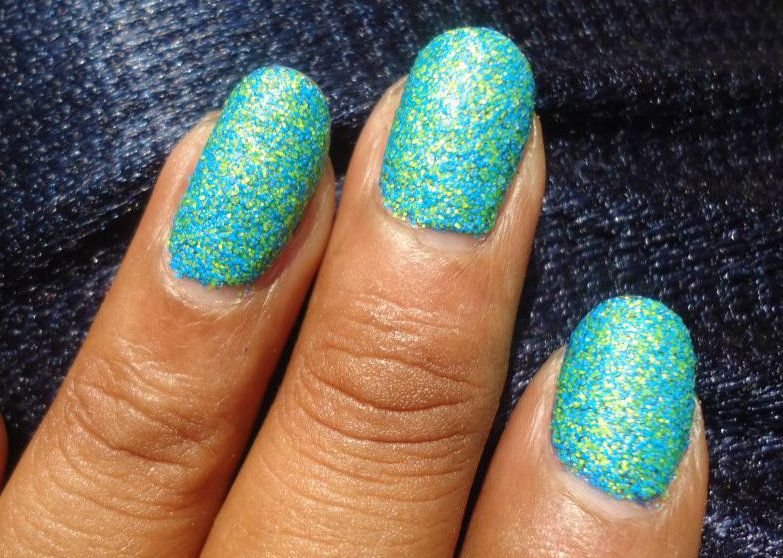 The finish is slightly gritty. The matte glitters do not shine. But I loved the way it looked and did not topcoat it. Also, like with all glitters, this one cannot be wrapped around the nails either. But that should not be a problem with this beauty's amazing staying power!
This is such a striking polish, everyone, and I mean absolutely everyone, will take notice. It has a very tropical feel. The photos do not do justice to its neon-iness. It will definitely grab eyeballs and compliments!
Here's a macro shot to drool over: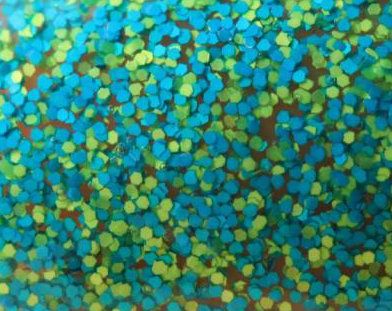 Product:
Floam
Brand: Nail-Venturous/ Ninja Polish
Collection/Range:
Floam (Check out the other versions:
Girly Floam, Humblebee Floam, Pinkerbell, Sunny Floam and Spooky Floam which is glow-in-the-dark!).
Colour: Matte neon glitter in clear base
Finish: Slighty gritty
Qty: 15 ml
Price/Availability: $9 (Rs 500 approx). It is not available in India. Can be ordered through Ninja Polish.
Pin It