Pin It
Hi lovelies,
I am back to posting for The Neverending Pile Challenge. For the neon prompt, I paired my Colorbar neons with a new K B Shimmer polish I got.
KBS Mixed Peelings
This is KBS Mixed Peelings – A creamy off white polish with citrus- and fruit-coloured glitters in neon green, lemon yellow and watermelon pink.
Though the green and yellow somehow got lost in the white, the pop of pink lifted this polish and made it perfect for summer.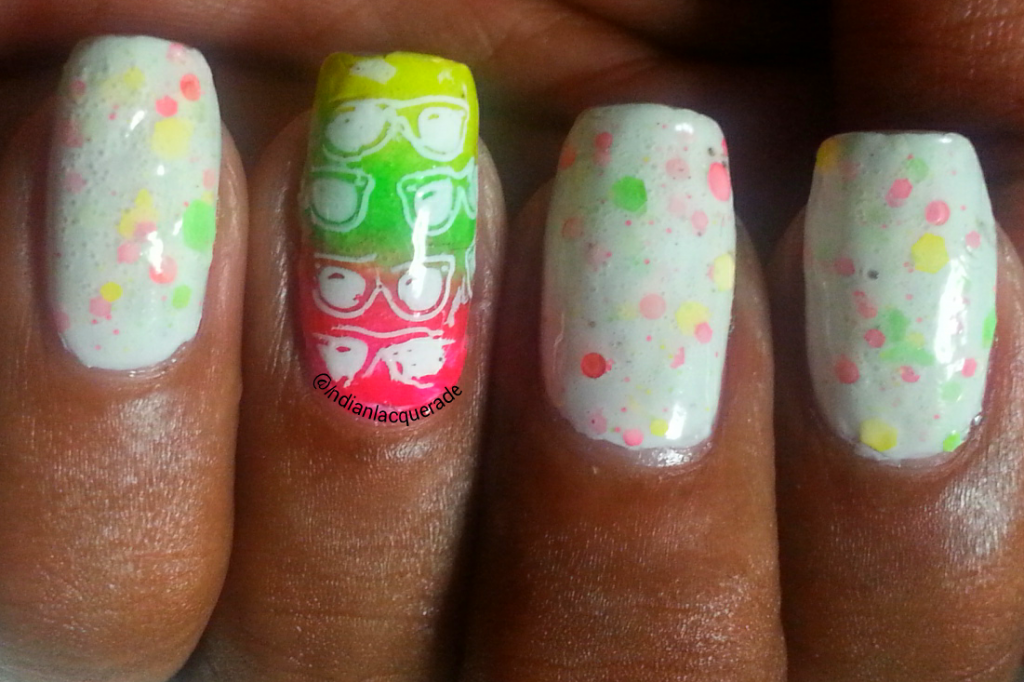 KBS Mixed Peelings
I initially teamed it with a gradient using Colorbar Pina Colada, Lime Margarita, and Pink Lady from its Cocktail Brights Collection. And stamped sunglasses on it using Konad White and Cheeky plate CH37.
KBS Mixed Peelings and Colorbar Caliente Coral
However, I felt the neon pink did not match the watermelon pink hexes in Mixed Peelings so I changed the accent nail to Colorbar Caliente Coral, a peachy coral creme, from its Quick Finish Range. I stamped a flower design using Konad White and XL plate M. This polish matched the glitter perfectly. So, I managed to use three polishes for this prompt.
I really love how my thumb looks. There are very few challenges left, all of which I completed a while ago, but will upload soon. Stay tuned.
Pin It