Pin It
Hi lovelies,
Rolling towards the almost end of this challenge, we have a dupe match untried with tried challenge. And I present to you Zoya Veruschka (swoon!) v/s Faces Green versus Matte.
Here's a shot with the bottles included. I used Veruschka on the two middle fingers and Faces on the pointer and pinky. After Picture Polish Kryptonite, Zoya Veruschka was one polish I had my heart set on. Unfortunately, it came out nearly 2 years before I got addicted to polish and there was no way I could lay my hands on it. Evil Bay was out of the question. So, I prayed (yes, I tend to do that for polish) and God heard (Thank you!) :) Zoya relaunched its Matte collection and I added Veruschka, a backup (as if I was ever going to finish 1 bottle), Savita (purple), and Posh (red) to my small collection of Zoya Mitzi (chartreuse green) and Harlow (magenta).
But there was a time in between that I decided to get hold of Faces Green versus Matte to satisfy my lemming. And I need to thank my dear friend Dhara from The Happi Therapy for being an enabler. She got me most of the Faces Matte range. This was before Faces launched a counter in Ahmedabad.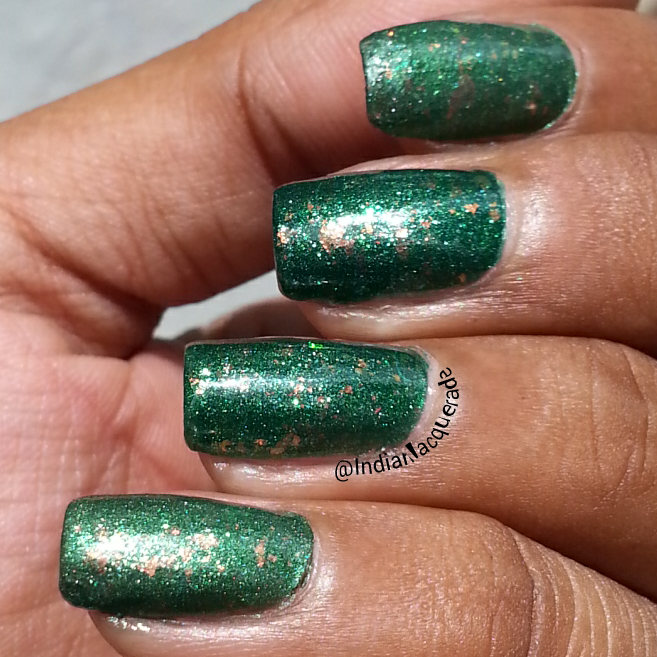 As you can see, while Faces is a beautiful polish but it cannot match Veruschka's gorgeousness. Veruschka is darker than Faces. Veruschka is pretty opaque in one coat. I used two for perfection. Faces need three to four coats to be opaque. And the biggest bummer: It STAINED! Through two coats of nail polish! Now, that is something I can do without.
I then layered both polishes with L A Girl Crowd Surfing,

a sheer apple green polish with fine green glitter and green/orange flakies
So, what did you think of this comparison? Don't forget to write your thoughts below.
Thanks :)
Pin It